Yay! I got another square done yesterday for my sampler lap quilt that we are doing in quilting class! Im going to put together a page with each of my squares on it so we can see the progress and also the colors of the squares as they tie in together.
Here is the square that I so hurriedly made yesterday before class. I wanted to have it done so I could move onto the next square!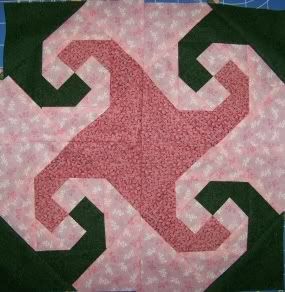 And another churn dash to match. I made the above square in colors that would pull in this square since I had done it previously but the colors didnt work right with my other squares I was doing. Now I found a way to tie it in!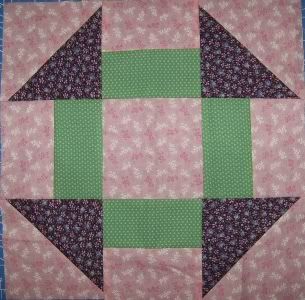 Our next square is the morning star - evening star. I have already picked out my colors for it! We also learned that our next square after that is an applique square. So we learned about how to applique onto a square. I have had fun looking up designs! I think for us beginners, we're supposed to keep it very easy - but not me! I want to dive into it and try this one I think ~
with some colors to compliment my other squares. Too hard for a beginner? Our teacher showed us a few methods of how to applique onto a quilt square. Seems easy enough really! I will most likely use the zig zag stitch to attach it. I dont want to do some beginners one piece applique! I want the best! :o)