My first prim doll! Though, she doesnt look too prim to me - she looks too cute to be prim lol. I'll have to do better next time with the prim look :o)
I painted and embroidered the other dolly head the same time I did this one, so I might add more dye to her face, arms, and legs to get her a bit darker. I still want my dollies to look nice, but not too nice!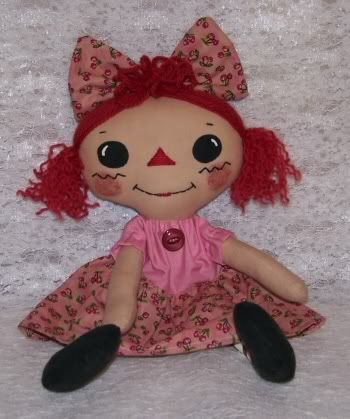 I've named her ShellieAnn (Shellie for Chelle, and Ann cause she's a raggedy!). Let me know your thoughts on her! I was trying too hard to make each part perfect - perfect lines on her legs, her eyes perfectly round, her nose perfectly stitched, her dress hems finished, etc.
After I was done with her, I realized prim dolls arent supposed to be "perfect". Not horrible either, but a little more on the raggedy side.