Uh oh, now Im getting started on a fabric stash! Wasnt enough that I have a huge yarn stash, but now Im getting a fabric one!! I love it though - hubby not so much LOL
Here is my first stash of fabric ~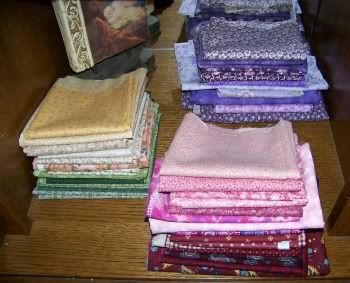 Some of the fabric came from our quilting teacher, and the rest came from walmart when I wanted more color variety to make my log cabin square from.
As if that wasnt enough of a starter stash, I purchased some more fabric for my dad's quilt Im making him!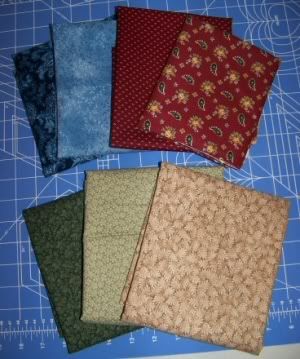 Oh, now I have designs and fabric color (and have even started purchasing the fabric!) ideas for my girls' quilts I want to make them when I am done with my dad's quilt! I made my dad a crochet afghan quite a few years ago. He used it up so much he said he's in need of another one! Well, since Im learning how to quilt, I thought it would be a nice surprise to make him one! I have a feeling the quilt will last longer than a crochet afghan any day!
So, my fabric stash just keeps growing and growing!
I picked these up for my 7yr old's quilt (she's a fun and funky girl and I wanted her fabric to reflect that as well):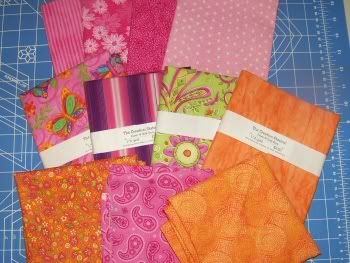 I received this fabric in a fabric swap (I will post more about that later too!) which goes very well with the fabric for my 7 yr old: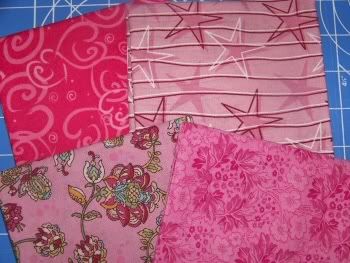 We drove down to Ventura today and on the way back I wanted to check out a fabric store in Santa Barbara. Oh my, so many great wonderful fabrics!! But, I cut it down to only a few, much needed, fabric!
These colors are for my 9 yr olds quilt I want to make her. Her favorite color is blue, but I want her quilt to represent girlyness as well as being blue. So I found these!!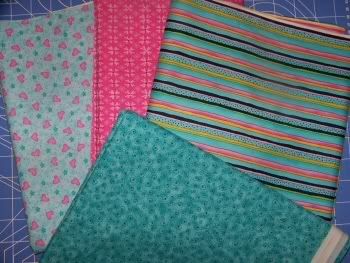 Oh, and then I picked up this fabric to go with my 7 yr olds quilt color stash!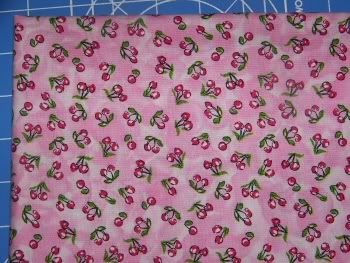 I know there's no way Im done yet! I have a few more colors to pick for my 9 yr old. But I need to finish my dad's quilt before I start on any others! I dont want this to be like my crochet, a bunch of unfinished projects here and there. I want to make a quilt, finish it, and give it to the recipient in a well timely manner! Now hopefully that will happen! :o)