I have done pretty much nothing today. I woke up this morning with a horrible cold. The last few days I had a sore throat but I thought I had it under control, then my voice went hoarse the day before yesterday and then yesterday my voice started going back to normal again, so I thought great! But I woke up this morning to sinus pressure, stuffy nose, coughing and sore throat.
I did get a couple of stuffies made for my swap partner at
swapbot
. We are only supposed to send one stuffie, but I took a look at my partner's flicker photo album and saw a purple nursery so I just HAD to make a purple bunny stuffy to match!
I got this pattern at
kwoozy.blogspot.com
After making the first one, the other two were easy! I had a hard time with the first one, especially turning the ears right side out! But once I got it, it became much easier to do.
The one on the left was my first one, the other two are the ones I am sending to my swap partner.
Here they are together after I put on the eyes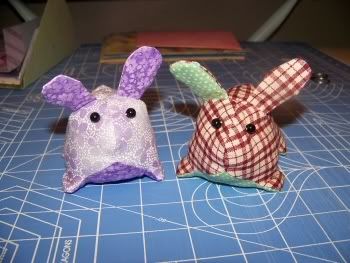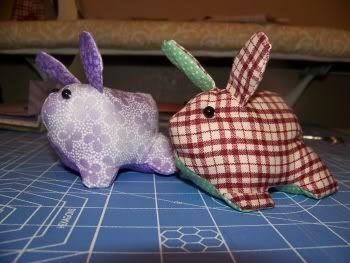 I am going to add a little white tail (the little craft fuzzy ball things) - not in the pattern, and then I have to give them a mouth and they will be ready to head out to their new home!
Now my girls want me to make them some! Like they dont have enough stuffed animals already!?